Both UPS and FedEx offer date guaranteed deliveries for ground shipments. So, why pay considerably more expensive shipping charges when a ground service level may be guaranteed to arrive on the exact same day as a next day or two day express service?
Consider this... The 2008 published rate for a 10 lb UPS Next Day Air® shipment (to zone 2) was $25.45. The ground rate for a shipment that would arrive on the exact same day was only $5.59. So, if this shipment was diverted to ground, the savings would have been $19.86 (or 78%).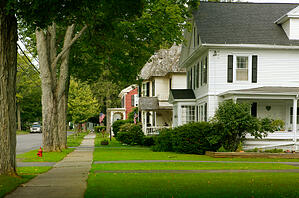 Many shippers cannot be bothered to take advantage of this easy, cost saving step. The typical excuse is that it's too difficult and too time consuming to justify the effort. The truth is that it does not take very many "local" express shipments to make it worth your while. So, here's how to estimate your potential savings and how you can start benefiting from this idea immediately.
From your shipping software, run a report containing the express shipments you sent out to Zone 2 over an extended period of time-- e.g., 6 months or 1 year. Do the same for ground shipments. Using these reports, calculate and compare the average charge per ground shipment to the average charge per express shipment. Next, multiply the difference between the two averages by the total # of express packages. The result is a rough estimate for the potential for savings over the reporting period.
Now that you see the potential for savings, you need to implement a simple "business rule" into your shipping process.
First, you should speak with your parcel carrier and request ground delivery standards based on your origin zipcode. (You can usually get this from the carriers' websites too.) Normally, this is a color-coded map which you can use to help make these decisions manually.
Alternatively, a significantly more efficient approach is to configure a rules-based shipping system to perform this determination automatically. That is, configure your shipping system to automatically compare the ground transit time for every express shipment that is processed. Then, automatically switch to ground when the delivery dates are the same.
If your shipping software cannot accommodate this type of logic, it may be time to start considering an upgrade. In many cases, this feature alone can justify the cost of capable, third-party shipping system.
As a final note, while implementing logic like this, there is another detail to consider. In your Shopping Cart or Order Entry process, you should be sure to use generic shipping options like "Next Day" or "Second Day" instead of specific methods such as "FedEx® Priority Overnight" or "UPS Next Day Air®". This gives you the latitude to switch to a ground service when appropriate without misleading a customer.